Purpose: The purpose of the Business Excellence Diagram template is to describe a measuring tool based on The European Foundation for Quality Management Excellence Model (EFQM).
Core concerns: The Business Excellence Diagram enables you to model Business Scopes, Criterion and Sub Criterion. These aspects can then be connected by Criterion Influencers.
Below, you can see an example of a Business Excellence Diagram for the Leadership of an organization. The diagram is structured according to the EFQM and shows the overall scores for the leaderships performance: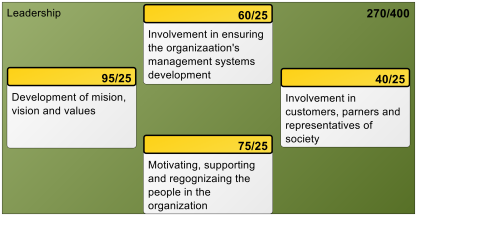 Other areas covered in the EFQM are Policy & Strategy, People, Partnerships & Resources, Processes, Customer Results, People Results, Society Results and Key Performance Indicators.
Relation to other templates: The Business Excellence Diagram is a strategic template that is complimentary to the Business Capability Model, Stakeholder Model, Business Canvas, and Strategy Model
Properties and metadata: The Business Excellence Diagram ­­­­can for example retain the following information:
A description of the diagram
Link to the owner of the diagram
Link to the one responsible for the diagram
Audits (auto generated information regarding its current state and access rights)
Associated documents, diagrams and other objects
Inherent Risk detailing risk considerations
Governance information detailing information about the published diagram and who has been involved in the approval of the diagram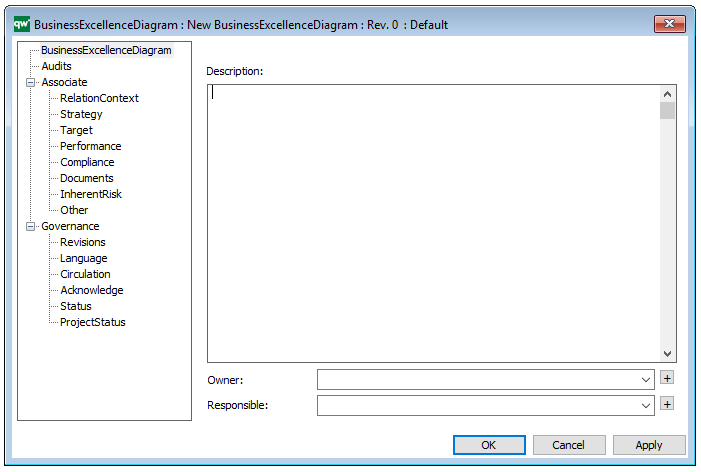 The above picture shows the properties dialogue window for the Business Excellence Diagram template, where you can view and edit the diagram's properties in QualiWare Lifecycle Manager.
For more information: To learn more about the EFQM, please visit their website, where you can also find an overview of the EFQM Excellence Model.