In ArchiMate, an Assessment is a Motivation element.
An assessment represents the result of an analysis of the state of affairs of the enterprise with respect to some driver.
An assessment may reveal strengths, weaknesses, opportunities, or threats for some area of interest. These need to be addressed by adjusting existing goals or setting new ones, which may trigger changes to the Enterprise Architecture.
Strengths and weaknesses are internal to the organization. Opportunities and threats are external to the organization. Weaknesses and threats can be considered as problems that need to be addressed by goals that "negate" the weaknesses and threats. Strengths and opportunities may be translated directly into goals. For example, the weakness "Customers complain about the helpdesk" can be addressed by defining the goal "Improve helpdesk". Or, the opportunity "Customers favor insurances that can be managed online" can be addressed by the goal "Introduce online portfolio management". The name of an assessment should preferably be a noun or a (very) short sentence.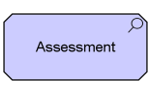 Properties:
| | | |
| --- | --- | --- |
| Property | Metamodel name | Description |
| Short description | ShortDescription | |
| Implements | Implements | Links to: All templates. |
| BreaksDownTo | BreaksDownTo | Links to: All templates. |