The Common Approach to Federal Enterprise Architecture was launched publicly on May 2, 2012 in an important memo from US Federal CIO VanRoekel. The Common Approach is clearly inspired by the EA3 Cube.
The Common Approach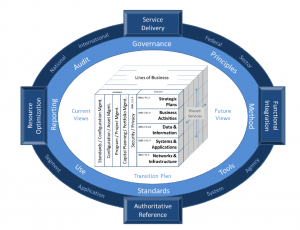 This document provides guidance for a common approach to the practice of Enterprise Architecture (EA) throughout the Executive Branch of the U.S. Federal Government. Federal law and policy require Agency Heads to develop and maintain an agency-wide enterprise architecture that integrates strategic drivers, business requirements, and technology solutions. The Common Approach to Federal Enterprise Architecture promotes increased levels of mission effectiveness by standardizing the development and use of architectures within and between Federal Agencies. This includes principles for using EA to help agencies eliminate waste and duplication, increase shared services, close performance gaps, and promote engagement among government, industry, and citizens.
The target audience for this document is Federal Government employees who plan, approve, and execute Agency programs, and those in industry who support those activities.
Within the Federal Government there are over 300 organizational entities of differing size, scope, and complexity which include departments, administrations, bureaus, commissions, agencies, and boards. These entities employ more than 2.6 million people and spend over $3.4 trillion each year to perform their mission functions, often through services that are directed to customer groups that include citizens, industry, academia, non-profits, and other government agencies in the U.S. and abroad. Over $80 billion of annual federal spending is devoted to various forms of information technology (IT) that enable thousands of mission and support services across the Executive Branch and with external groups.
During the past several years many Agency budgets have gone from flat to declining, yet the public's expectations of government continue to rise. In response, there has been a widespread call from Congress, the Administration, citizens, and industry for more cost-efficient Agency operating models and more transparency in tracking the performance of federal programs. Shrinking budgets increase the urgency for accomplishing these changes so that scarce resources can be directed to areas of the Agency that will contribute the most value. The Common Approach to Federal Enterprise Architecture accelerates Agency business transformation and new technology enablement by providing standardization, design principles, scalability, an enterprise roadmap, and a repeatable architecture project method that is more agile and useful and will produce more authoritative information for intra- and inter-Agency planning, decision-making, and management.
The Common Approach supports the Office of Management and Budget's IT Shared Services Strategy, Digital Strategy, and implementation of the Portfolio Stat process.