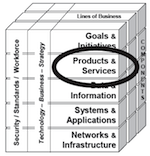 ITIL defines a business service as
a service that is delivered to business customers by business units. For example, delivery of financial services to customers of a bank, or goods to the customers of a retail store. Successful delivery of business services often depends on one or more IT services. A business service may consist almost entirely of an IT service – for example, an online banking service or an external website where product orders can be placed by business customers.
Capability Mapping uses a broader concept.