Purpose: The purpose of the Content Map template is to describe the Content Items that are produced, exchanged and consumed in the enterprise space.
Core concerns: Consistent content is the basis for all communication, decision-making and collaboration. Creating, managing, and distributing content is subject to Content Strategy work.
The Content Map template enables you to model Content Items, Content Actions and Content Purposes. These elements can be connected by Connections, Association, Aggregations and Flows.
Content elements are assets vital for the organization's success both internally and externally. An organization should create content that is meaningful and useful to people in touch with the enterprise. Content should be considered a valuable business asset to the enterprise.
Graphical representation of objects: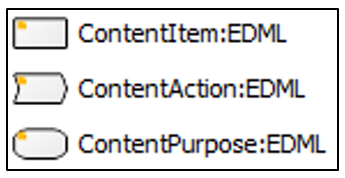 Below, you can see an example of a Content Map showing the purpose and actions of enterprise- and department strategies:

As you can see, there are flows between the content items, actions and purpose. Because of the nature of strategies, the enterprise strategy and Department strategies are also connected.
Relation to other templates: The Content Map template is based on the Enterprise Design theories and is as such in the same family as the Architecture Overview, Actor Map, Brand Overview, Communication Plan and the  Business Eco System.
Properties and metadata: The Content Map template ­­­­can for example retain the following information:
A description of the diagram
Audits (auto generated information regarding its current state and access rights)
Associated documents, diagrams and other objects
Inherent Risk detailing risk considerations
Governance information detailing information about the published diagram and who has been involved in the approval of the diagram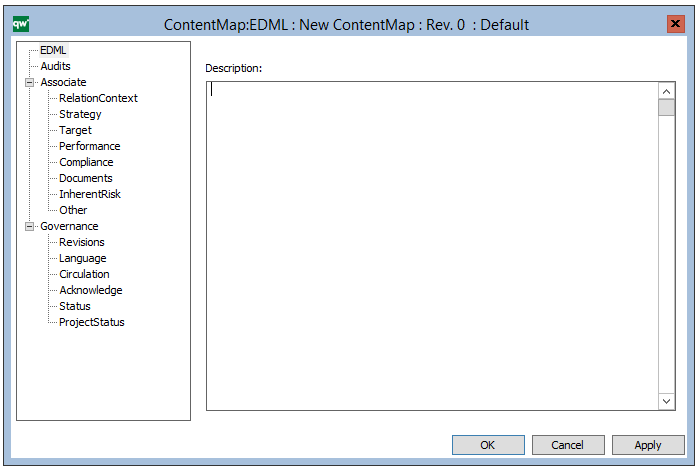 The above picture shows the properties dialogue window for the Content Map template, where you can view and edit the diagram's properties in QualiWare Lifecycle Manager.
For more information: If you want to learn more about Enterprise Design, we have a four-part webinar by Milan Guenther available for viewing. You can also visit Milan's website, where you can learn more about the Enterprise Design framework.