1.1 Governance and Principles
This document articulates the management of the Danforth Manufacturing Company (DMC)'s Enterprise Architecture Program (EA Program). This program will align and unify Strategic Initiatives, Business Processes, Information Flows, Systems & Services, and Technology Infrastructure. The goal is to ensure that all major initiatives, processes, projects, IT standards and investments support DMC's stated Mission, Vision, and Strategic Objectives. When considering investment in any Infrastructure Technology, project or standards adoption/waiver, each instance will be processed as seen in Figure 1.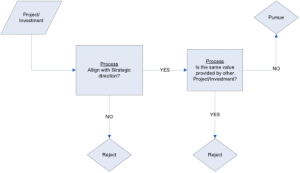 In support of this goal, DMC, Inc. fully supports the open sharing of information across lines of business except where confidentiality, contracts, agencies, and/or discretion prohibit it.
The DMC, Inc. EA Program will involve stakeholder's at all appropriate levels to achieve maximum buy in and on-going support of the program.
DMC, Inc. is committed to investing in technologies that will fully support its Mission, Vision, and Strategic Objectives. Investment in technology will not occur for any other reason.
DMC, Inc. will attempt to invest in Commercial Off-The-Shelf (COTS), non-proprietary products that emphasize open standards and heterogeneity.
The deployment of this EA Program is fully supported by stakeholders because of its planning, decision-making, and communications attributes.
1.2 Support for Strategy and Business
One of the primary goals of the EA Program is to support DMC, Inc.'s enterprise strategic goals, business plans, and to identify performance gaps which can be closed through the alignment of Strategic Initiatives, Business Processes, Information Flows, Systems & Services, and Technology Infrastructure. By aligning these areas of the business, we can reduce costs dramatically while streamlining business activities and avoid duplicate systems and effort. Specific performance benefits and direct cost savings achieved by the EA Program are articulated in later sections.
Based upon the strategic direction as outlined in the Goals and Initiatives Section of the EA framework, DMC will maintain its competitive position over the next five years through a combination of:
New product development,

Cost control, and

The planned acquisition of one or two competitor companies in the consumer and industrial product markets.
Below is a high level view of DMC Inc.'s strategy: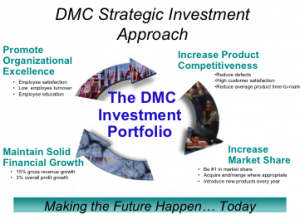 At a high level, DMC's five year growth strategy will be accomplished through the execution of the following four goals:
Maintain Solid Financial Growth
Increase Market Share
Increase Product Competitiveness
Promote Organizational Excellence
1.3 EA Program Roles and Responsibilities
This section of the EA Management Plan provides the team members names, their roles within the team and their responsibilities with the DMC organization and EA Management.
EA Team
Roles
Responsibilities
President and CEO:
Robert Danforth

EA Program Sponsor

Executive Leadership

Champion of EA Program. Provide resources. Assist in resolving high-level EA issues

Chief Information Officer:

Sam Young

Executive Leadership and decision-making.

Facilitate the establishment and on-going operation of the EA Program. Lead resolution of high-level EA issues. Integrate EA and other governance.

Chief Counsel

Gerald Montes

Provide oversight on legal matters as they pertain to DMC

Chief Operations Officer

Kate Jarvis

Manage Operations for DMC businesses

Chief Financial Officer

Jim Gorman

Financial Manager for the DMC Company

Chief Architect:

Vince Albright

EA Program Manager

Manage the EA Program and documentation process. Select and implement the EA framework and documentation methodology. Identify EA standards and manage EA configuration management sub-process.

Line of Business Managers:

Jeff Linder, VP Industrial Sales

Requirements Identifiers

Participate in EA program decision-making. Promote the identification of IT-related requirements and EA solutions for each LOB.

Solutions Architects:

Jim West

Problem Solvers

Collaboratively identify solutions for IT-related problems within LOBs. Support EA documentation.

Systems Architects:

Hamid Sahari

Analysis and Design

Provide technical analysis and design support for systems-related EA component selection and implementation. Ensure that IT systems meet nitration and interoperability requirements. Support EA documentation.

Systems Analyst:

Lily Jefferson

Analysis and Design

Provide technical analysis and design support for database-related EA component selection and implementation. Ensure that databases meet integration and interoperability requirements. Support EA documentation.

EA tool Experts:

James Martin

Application and database support

Maintenance or EA Software Application. Maintenance of EA repository and information.

End-User Reps.:

Chris Harmoney

Requirements Identification/QA

Identify end-user requirements for EA components. Provide feedback on the effectiveness of solutions.

Webmaster:

Mike Harris

Web Support

Maintenance of EA website, associated content, and links to other websites as needed.

Research Analysts:

Art Anderson

Requirements Analysis

Document and verify LOB and end-user requirements. Assist in EA component design and documentation activities.
Table 1 – EA Program Roles and Responsibilities
1.4 EA Program Budget
…
1.5 EA Program Performance Measures
Costs for current architecture including hardware and application support have been base lined. Financial Return on Investment (ROI) achieved by the program will be measured annually against this baseline.
Besides costs, a number of other ROI areas will be measured as well. Value can be provided by the EA Program in the areas of systems integration, a reduced number of enterprise applications, and viability of IT projects in the environment (i.e. Are they meeting cost/schedule/performance goals), and general user satisfaction. The EA Program will track performance in these areas quantitatively and qualitatively by measuring changes in projects undertaken, applications deployed/decommissioned, systems integration and user survey results. These findings will be reported to the Chief Architect.
To summarize, the EA Outcome and Output measures for DMC are as follows:
Increase System User effectiveness and efficiency by 30% using integrated training and education as part of the overall EA program performance measure.
The following Output Measures will be tracked by DMC during the next twenty-four months based upon this outcome:
Output Measure #1-1: Number of Course hours for training and education provided to user community.

Output Measure #1-2: Number of Help Desk calls initiated based upon system errors and software functionality

Output Measure #1-3: Future year's number of software functionality changes initiated based on user input.