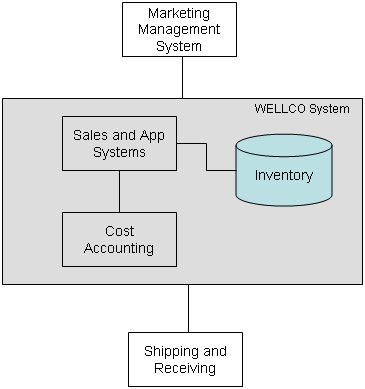 Services &
Applications
Functions
Main Data
Products
Cost accounting system
Account managementCost flow analysisInventory valuation
Inventory data (from inventory tracking module)Cost data
WELLCO
Shipping and receiving system
Product shippingInventory receiving
Product shipping and customer information
Shipping & receiving application
HR, payroll and benefits system
Payroll processingMaintain employee recordsBenefits processing
Employee data
PeopleSoft HCM
Design systems
Product design
Blueprints
CATIA
HR, Payroll, and Benefits System
The system of record for employee information at DMC is a single production implementation of PeopleSoft Human Capital Management (HCM). By providing operational and self service functionality through the application, employee records can be maintained quickly and easily by those that have the most accurate information available whether it is from the employee directly, their managers, or HR generalists from the various locations. All employee data is managed in the HCM environment and shared with other systems as needed. Employee paychecks and benefits information are also maintained in the HCM application ensuring all taxes, deductions, sick leave balances, etc. are properly maintained by having continuous access to employee records.
Cost Accounting System
The WELLCO production environment receives regular feeds of inventory data from the shipping and receiving system. As product is shipped out, inventory levels must be managed to reflect the accurate counts for the production warehouses. As new materials, etc. are received on site, inventory levels for the input materials must also be updated. The interface between these two systems is a key component to the full utilization of the cost accounting function of the product.
Shipping and Receiving System
The shipping and receiving system manages the incoming materials and outgoing product shipments to customers. The shipping and receiving system's primary responsibility is to mange the tracking of shipments once the inventory tracking system identifies that a package is ready to be shipped. Therefore a tight integration between these two systems is required.
The PeopleSoft Customer Relationship Management system is the source for all vendor contact information, supported as a front office system. Vendor information is passed between the CRM and shipping and receiving system to ensure accurate records are being used to ship product out as well as the quantities ordered.
Design System
CATIA is the product definition authoring tool and stores its data in Enovia LCA. The manufacturing organization accesses the product definition data and via Enovia to generate and manage new designs for the various product lines.