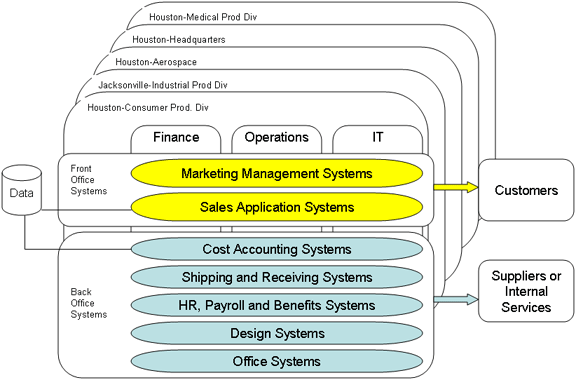 Overview
Services &
Applications
Functions
Main Data
Products
Marketing Management System
Marketing Admin
Schedules, budgets, forecast, pricing
Existing System
Campaign Execution
customer data, product data
Interface to WELLCO
Internet Mgmt
Email, web pages
 
 
 
 
Sales Application System
Call center
Customer info
WELLCO
Online ordering
Purchase orders
WELLCO
Products
Inventory
WELLCO
Tracking
Purchase orders
WELLCO
Customer service
Customer info; ordering; link to tech support
WELLCO
Inventory: Products and spec, quantity in inventory
Inventory Database
WELLCO
Inventory: Product availability
Inventory Database
WELLCO
Inventory: Out of service
Inventory Database
WELLCO
Replacements
Inventory Database
WELLCO
Marketing Management System
The Marketing Management System is made of marketing administration, campaign execution and internet management. The administration component is made of sub components that include scheduling, budgeting, forecasting and approving marketing projects. The second major component, campaign execution, involves sending key messages to prospective customers and a capability that let the users set up campaign sequences and track events. The third component is the integrated internet management component which can automatically generate e-mails to customers that contain unique URLS that are tied to campaigns and track customer responses.
This system also needs an interface to the WELLCO and Cost accounting system for access to product and financial data.
Sales Application System
The Sales Application System has two major components, sales and inventory. A call center is also staffed to take customer calls that can order products directly from the company, provide status of existing orders or direct a customer to product support for general questions or technical support. The same services are available through a web site for customers and sales representatives. Sales representatives are also able to access in real time price and product inventory for making price quotes to customers. Sales representatives are also able to make accurate predictions of when inventory will be replenished to meet sales commitments.