Overview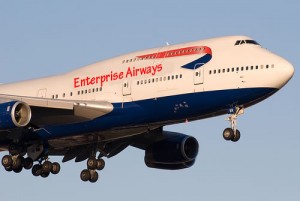 Enterprise Airways is a regional airline in Europe. With 10 million scheduled passengers carried to 50 destinations, the airline has 70 planes in its fleet.  The company's stated goal is to ultimately provide service to 75 percent of all medium-sized cities in both Europe and at least one other region.
The mission of the airline is to "Provide a safe, reliable, affordable and friendly travel experience for the flying public."
Enterprise Airways is a tradition-bound company. The information systems was developed some 20 years ago, with new modules and patches added over the years.
Enterprise has a talented and experienced work force including seasoned pilots and skilled mechanics. The company is in good financial shape – at present. However, it is buffeted by increasing labor and fuel costs.
Because of antiquated ground equipment and inefficient processes, Enterprise lags behind most other airlines in "turn-around time". The turn-around time is the time required to refuel, clean and cater a plane once it has landed. It is a goal of the company to make more efficient use of their capital assets, and this includes reducing the turn-around time.
While the company is flying at near-capacity, the revenue per passenger-mile has been declining compared to other regional airlines.
Enterprise understands that customer loyalty is a key element to growing and sustaining the business. To this end, the company is looking to making its frequent flyer program one of the best in the industry.