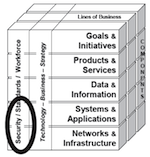 EA3 artifact SP-5: Disaster Recovery Plan
The Disaster Recovery Plan is an assessment matrix and set of procedures to handle outages in various business and/or technology capabilities that do not require the enterprise to relocate its operations.  Outages can be caused by natural or man-made events (e.g. fire, flood, power outage).
The activation of the Disaster Recovery Plan may have to be accomplished in the midst of a natural or man-made disaster that makes clarity, brevity, completeness, and flexibility (backups) key to success. The following are some of the recommended elements in a Disaster Recovery Plan:
1. Disaster Recovery Activation. Conditions for Activating the COOP.
2. Recovery Roles and Responsibilities. A matrix of the roles and responsibilities (by position) of all personnel throughout the enterprise who are involved in activating the COOP. Alternates are provided for each position.
3. Disaster Impact and Recovery Assessment. A standard matrix for assessing the type and duration of the outage, as well as the systems and functions throughout the enterprise that are affected. Depending on the type of outage and the projected period of outage (minutes, hours, days), the recovery procedure may differ.
4. Recovery Procedures. The procedures that are used to restore the business and/or system functions that have been disrupted. Examples include:
Electrical Outage

Air Conditioning/Heating Outage

Building Damage (Fire, Flood, Earthquake)

Room Damage (Fire, Flood, Earthquake)

Virus Infection of Information System(s)

Loss of Internal or External Data Communications

Loss of Internal or External Telephone Communications
Enterprise Functions Do Not Relocate