One of my routines around New Year is to look back at the books brought to the market in the last year that caught my attention. In this blog post, I will share my thoughts about the ten most notable books of the year.
Notable 2015 additions to the enterprise architect's bookshelf: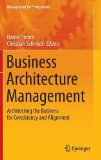 Business Architecture Management: Architecting The Business For Consistency And Alignment by Daniel Simon And Christian Schmidt presents a comprehensive overview of enterprise architecture management with a specific focus on the business aspects. While recent approaches to enterprise architecture management have dealt mainly with aspects of information technology, this book covers all areas of business architecture from business motivation and models to business execution. Simon and Schmidt have done an excellent work editing this book, which has contributions from both academics and practitioner. I'm particularly fond of Adrian Apthorp's contribution.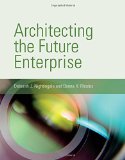 Architecting The Future Enterprise by Deborah J. Nightingale And Donna H. Rhodes offers a framework for enterprise transformation. Successful transformation, the MIT professors believe, starts with a holistic approach, taking into consideration all facets of the enterprise and its environment rather than focusing solely on one factor — information technology, for example, or organizational structure. This is architecting the future enterprise: creating a blueprint for what the enterprise will look like after the transformation. For this, Nightingale and Rhodes introduce the ARIES (Architecting Innovative Enterprise Strategy) framework.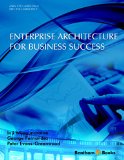 Enterprise Architecture for Business Success by Inji Wijegunaratne, George Fernandez, and Peter Evans-Greenwood is a solid ebook based on scientific work, which I'm familiar with from my time as editor as Journal of Enterprise Architecture. The authors argue that EA has evolved to become a prominent presence in today's information systems and technology landscape. The EA discipline is rich in frameworks, methodologies, and the like. However, the question of 'value' for business ;professionals remains largely unanswered – that is, how best can Enterprise Architecture and Enterprise Architects deliver value to the enterprise? The Australian researchers makes a very solid analysis and presents an interesting approach to the value of EA discussion.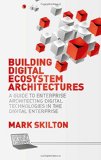 Building the Digital Enterprise and Building Digital Ecosystem Architectures are two volumes in Mark Skilton's series of books on Business in the Digital Economy. I basically regard these two books as one; the first one being an introduction to "digital"; the second book is clearly most relevant for EA readers. Skilton is involved with the Open Group work on Open Platform 3.0, and lead author on some of the work there. The second book extends on this work. As such, the whole book series is solidly anchored in classic, IT-centric EA. But it moves ahead on several accounts, including the monetization and benefit realization requirements underlying much current EA work.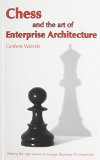 Chess And The Art Of Enterprise Architecture by Gerben Wierda is a novel approach to writing an EA book. Gartner had the author speak about it at their EA Summit in London, and the book's message is that Enterprise Architecture is the discipline of managing the complexities of the Business-IT landscape. "Enterprise chess" is used mainly metaphorically, but clearly Wierda is an avid chess player and sometimes ends up being a bit "nerdy" about it (although nowhere as nerdy as he becomes in his ArchiMate book). But Wierda is an experienced practitioner and shares happily his experiences. I think many, both new and experienced, practitioners will find it useful and interesting.
Although I am yet to read the whole book, I'll include Transformative Enterprise Architecture: Guiding And Governing The Metamorphosis Of Organizations And IT Ecosystems by Atul Apte which was released (self-published) on Christmas Eve 2015. Apte starts out by saying that the age of transformation is upon us. And for corporate IT departments, supporting and sustaining enterprise architecture requires a fundamentally new approach. Transformative Enterprise Architecture has the solution, he argues. He presents a new "homegrown" methodology that "boldly redefines the characteristics and competencies that every large-scale IT team must develop to function successfully".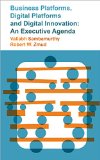 Business Platforms, Digital Platforms and Digital Innovation: An Executive Agenda by Vallabh Sambamurthy and Robert Zmud is the second book of a three book series on digitalization management. This book discusses how competitive success is increasingly dependent on the enterprise capabilities to simultaneously exploit their installed business platforms and undertake digital innovation, i.e., what Gartner calls bimodal IT. It is not clear to me what the third book will cover, and when it comes, but I hope the authors will go deeper into the architectural challenges, and expand on the role of enterprise architecture.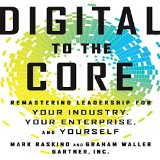 Digital To The Core: Remastering Leadership For Your Industry, Your Enterprise, And Yourself by Mark Raskino and Graham Waller is Gartner's own "flagship" book on digital business, authored by two of their leading analysts. "In this pioneering era," the authors argue, "successful leaders are those who can master the key macro forces that drive digitalization, and then lead their organizations at three distinct levels: industry, enterprise, and self". The authors describe the three primary disruptive forces of the digital era: Resolution Revolution, Compound Uncertainty, and Boundary Blurring.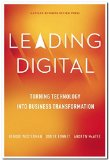 Although it is from 2014, I here also want to mention Leading Digital by George Westerman, Didier Bonnet, and Andrew McAfee (MIT, Capgemini, MIT). This is a must for "digital business" readers. Based on a study of more than four hundred global firms the book shows what it takes to become a Digital Master. It explains successful transformation in a clear, two-part framework: where to invest in digital capabilities, and how to lead the transformation. During 2015 McAfee used the classic tale of the invention of chess and the 33rd square of a chess board in notable keynotes, including at Gartner's Symposium in Barcelona, to explain why "digital" is so important today (the second half of the chess board).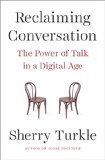 Reclaiming Conversation by Sherry Turkle is subtitled The Power of Talk in a Digital Age. "We live in a technological universe in which we are always communicating. And yet we have sacrificed conversation for mere connection," the MIT media scholar argues. Based on five years of research and interviews in homes, schools, and the workplace, Turkle argues that we have come to a better understanding of where our technology can and cannot take us and that the time is right to reclaim conversation. This is perhaps the most important message of the year.
Just at Turkle's book is a healthy "antidote" to Gartner's and others' uncritical thinking, it may be necessary to add several more books. I've for example liked  Surviving AI: The promise and peril of artificial intelligence by Calum Chase and Rise Of The Robots: Technology and the Threat of Mass Unemployment by Martin Ford, both of which should also be mandatory reading for the enterprise architects (and many others).
My hope for 2016 is that we will see more books following the line of the first two on my list above. That is, books that deal with architecting the enterprise. Can't we just all agree that 2015 taught us that every company is digital, and get on with it? There are many more interesting issues ahead.
PS: Amazon should stop (remove) this book spammer.