Customer Journey maps are a powerful tool to capture opportunities and pain points customers are experiencing, providing a basis for customer-centric transformation. But how to connect them to the reality of a complex, intertwined enterprise that needs to do things differently in order to deliver on these insights?
Too often, the links to the current architecture and organization are unclear, making it difficult to implement such initiatives. Enterprise Architecture teams find themselves stuck in a logic of operations far away from the customer, while those close to the customer struggle to make an impact on the way the enterprise actually works.
In this webinar, Katharina and Milan will share an approach to mapping the Customer Experience for prioritizing topics and challenges, looking at a practical Service Design scenario from the healthcare industry. Using the QualiWare modelling environment, they will look at what to capture, how to make this a part of an integrated Business Architecture model, and how to guide transformation through shared knowledge informing rapid Design Sprints.
Bios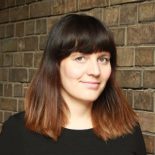 Katharina Weber is a UX strategist and service designer from Berlin. She is working freelance and is a fellow with eda.c. Her main agenda is to help creating meaningful user experiences for complex applications and services. In her recent projects she explores the intersections between design and business in disciplines such as design management, organizational design and business modeling. Thereby working towards holistic solutions that fit both the business strategy and the user needs. Katharina is also regularly working as a Google Expert Mentor, teaching hands-on methodology for Product Strategy and User Experience design to young entrepreneurs of the start up scene.

Milan Guether is managing partner at eda.c, a strategic design consultancy with offices in Paris and Düsseldorf. He is the author of INTERSECTION, a book introducing the enterprise design approach for holistic design in complex enterprises, and co-organising the INTERSECTION conference series about strategic enterprise design. Milan works with organisations like Google, SAP, Boeing, Toyota and the UN, as well as smaller organisations and start-up companies. He has been a designer and architect for over 12 years. Before co-founding eda.c, he worked as a freelance UX strategist and launched a social software startup. Milan co-leads the Paris chapter of the Interaction Design Association and teaches Design Management at the Paris College of Art.