Purpose: The Purpose of the Critical Path Method Diagram (CPM Diagram) is to reveal the critical path through a project, i.e. the list of activities that needs special attention since a delay in these activities will delay the whole project.
Core concerns: The CPM Diagram enables you to model Project Activities and connect them with Activity Paths. The Project Activities are then enriched with information about latest and earliest dates for start and finish as well as information about duration and slack for each Project Activity.
This makes it possible to calculate the probability of finishing the project within the planned timeframe, and to successively improve and detail the plan.
Below, you can see an example of a CPM Diagram about how to develop an organization to support a strategic change. It concerns the incoming and outgoing flow of employees as well as their training across several locations: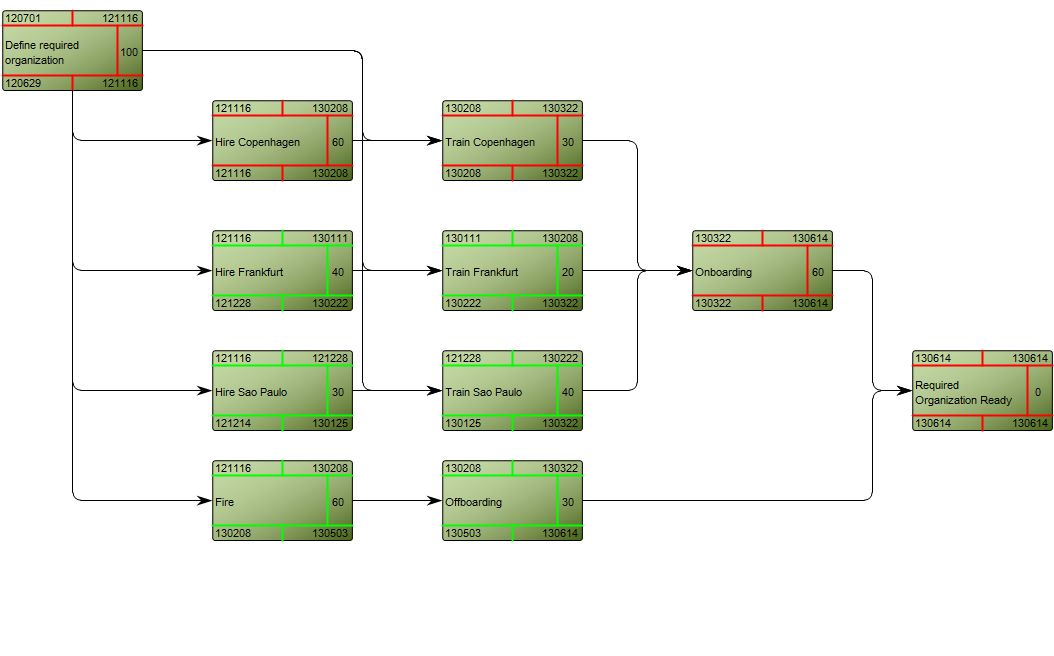 As you can see, the critical path is marked with red.
The following example is of a technology roadmap, where the critical path shows the three most critical project activities for on-time completion: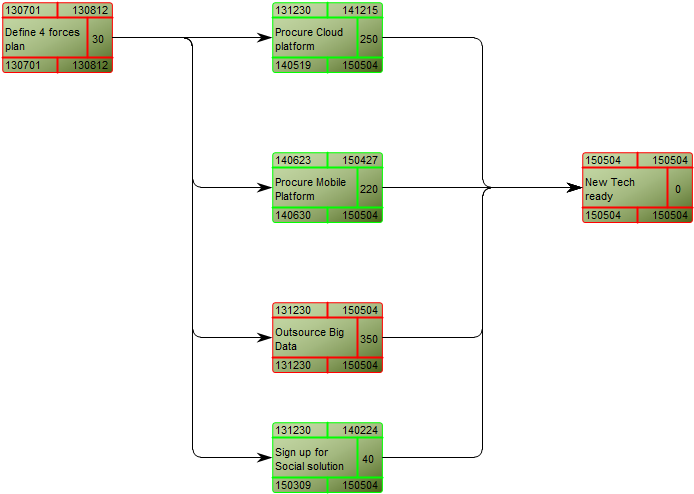 Other functionalities: A Calendar can be linked to the Property Dialog of the diagram showing holidays for the project.
Relation to other templates: The CPM Diagram template should be used after a project has been broken down into Project Activities. As such, it can be a decomposition of a Project Activity from a Business Canvas, Value Proposition, Work Model, Strategy Model or Innovation Canvas.
Properties and metadata: The CPM Diagram ­­­­can for example retain the following information:
A description of the diagram
Link to owner
Link to responsible
Link to calendar
Audits (auto generated information regarding its current state and access rights)
Associated documents, diagrams and other objects
Inherent Risk detailing risk considerations
Governance information detailing information about the published diagram and who has been involved in the approval of the diagram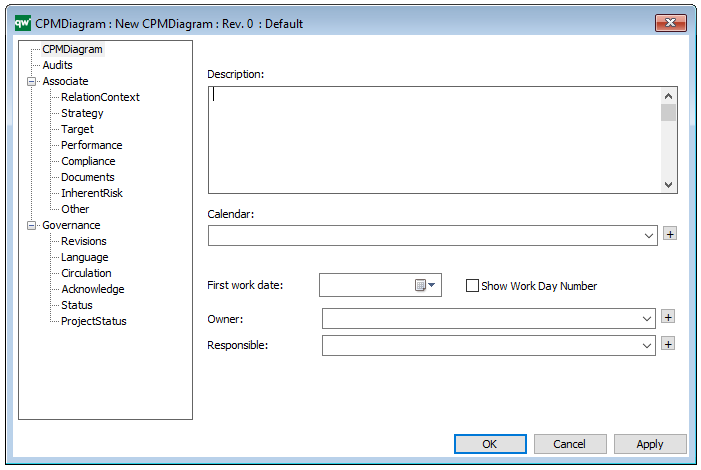 The above picture shows the properties dialogue window for the CPM diagram where you can view and edit the diagram's properties in QualiWare Lifecycle Manager.