Purpose: The purpose of the Transformation Plan template is to document strategic transitions over time in the form of transformation plans. Below is an example of a Transformation Plan consisting of a sequence of projects: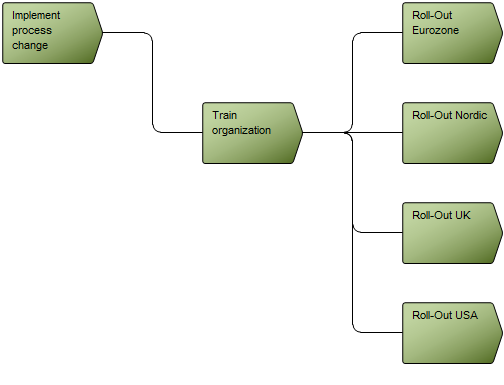 Core concerns: The Transformation Plan template should be used to document the transformation of a part of an enterprise from a current to a future state. Additionally, a past state can be documented for reference. The template allows you to model Projects, Initiatives and Business Cases, and connect them with Activity paths and generic Connections. Below is an example of a Transformation Plan that specifies Initiatives, their related Projects and Business Case:

Relation to other templates: The Transformation Plan template should not be used to document project plans for calculating a Critical Path. The Critical Path Method Diagram should be used for that purpose. The Projects can be further detailed in a Work Model that includes Milestones in its syntax.
Properties and metadata: The Transformation Plan can for example retain the following information:
A description of the diagram
Link to the owner of the diagram
Link to the one responsible for the accuracy of the diagram
Audits (auto generated information regarding its current state and access rights)
Associated documents, diagrams and other objects
Inherent Risk detailing risk considerations
Governance information detailing information about the published diagram and who has been involved in the approval of the diagram
Project status: information about budgeted and actual man-hours spent, percentage completed and the latest milestone, result and quality control of a change process.
In the picture below you can see the Transformation Plan's properties dialogue window, where the properties can be viewed and edited: