Purpose: The purpose of the Regulation Diagram template is to document those regulations the enterprise is subject to in detail, so it can be identified how the enterprise must adhere to them. Regulation diagrams is often used to document compliance by use of compliance matrices.
Core concerns: The Regulation Diagram template can model Regulations, Licenses, Business Scopes, Activities, Business Objects and their Connections. With this pallet of objects, you can model an overview of the regulations your organization must adhere to and break them down to more detailed diagrams describing their paragraphs. We recommend you keep it simple and link the regulations to the relevant Business Processes rather than modelling them in a complex diagram. Below, you can see two example of how you could model a Regulation Diagram for the ISO 9001:2008 standard: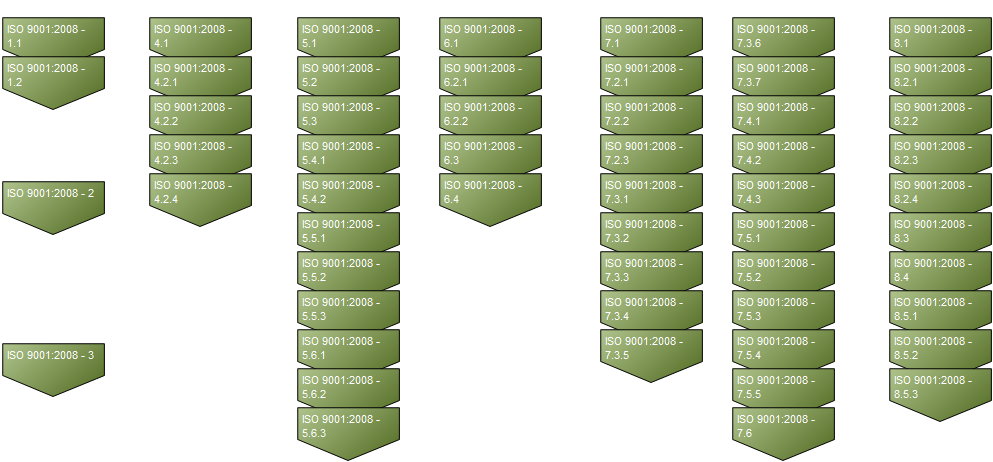 Relation to other templates: As mentioned, the regulations can be linked to the relevant Business Processes or Activities, that typically are detailed in a Workflow Diagram or Business Process Diagram. The Regulation could then be shown as a link below the relevant Business Process or Activity: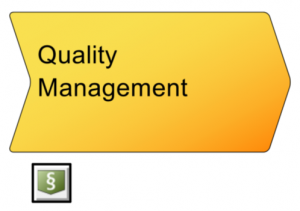 How the enterprise will live up to the requirements from the different regulations can also be modelled in a Requirement Model.
Properties and metadata: The Regulation Diagram can for example retain the following information:
A description of the diagram
Link to the owner of the diagram
Link to the one responsible for the accuracy of the diagram
Audits (auto generated information regarding its current state and access rights)
Associated documents, diagrams and other objects
Inherent Risk detailing risk considerations
Governance information detailing information about the published diagram and who has been involved in the approval of the diagram
Project status: information about budgeted and actual man-hours spent, percentage completed and the latest milestone, result and quality control of a change process.
In the picture below you can see the Regulation Diagram's properties dialogue window, where the properties can be viewed and edited: