Purpose: The purpose of the Enterprise Investment Portfolio template is to model enterprise goals and investments.
Core concerns: The Enterprise Investment Portfolio template enables you to model Goals, Projects, and Initiatives. The projects and initiatives can be connected to enterprise goals them through Project Contributions, that show the viable minimum and optimistic maximum of the value contribution. Below, you can see an example of an Enterprise Investment Portfolio, where the way goals are realized is visualized: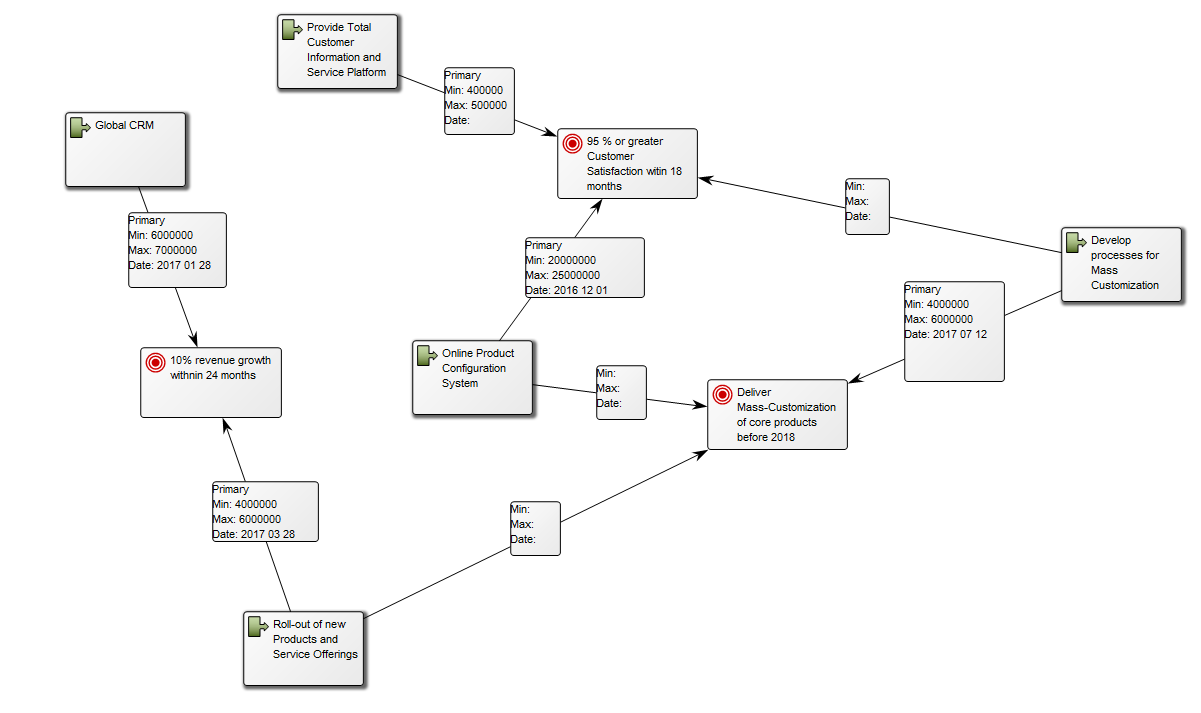 Other Functionalities: By using the Enterprise Investment Actions tab, you can create, for example, a Portfolio Value matrix, which offers another way to view the same data:

Relation to other templates: The Enterprise Investment Portfolio is a strategic template and is as such related to the enterprise's Strategy Model, Strategic Roadmap, Business Canvas and Innovation Canvas. The projects contained in the initiatives can also be further described in the Work Model template.
Properties and metadata: The Enterprise Investment Portfolio template can for example retain the following information:
A description of the diagram
Link to the owner of the diagram
Link to the one responsible for the diagram
Audits (auto generated information regarding its current state and access rights)
Associated documents, diagrams and other objects
Inherent Risk detailing risk considerations
Governance information detailing information about the published diagram and who has been involved in the approval of the diagram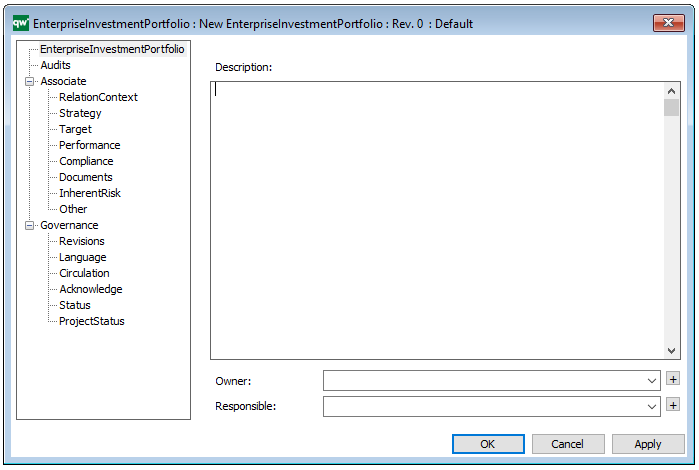 The above picture shows the properties dialogue window for the Enterprise Investment Portfolio template, where you can view and edit the diagram's Properties in QualiWare Lifecycle Manager.
For more information: This model type is used in the Enterprise Investment Methodology developed by Chris Potts and QualiWare. To learn more about Enterprise Investment, you can about it here:Enterprise Investment.