Purpose: The Purpose of the Customer Journey Map template is to document the customer's journey from awareness to the end of their interaction with an organization, covering possible touch points from the customer's perspective.
Core Concerns: The Customer Journey Map template allows you to model connections between different Personas, Customer Journey Phases, Touch Points, Goals, Roles, Locations, Channels, Technology and the aspects from a SWOT analysis.
You can choose to model both a current state and a desired future state of the customer journey and use the documentation for process improvement. Below is an example of a current state model and a future state model:
Current state model: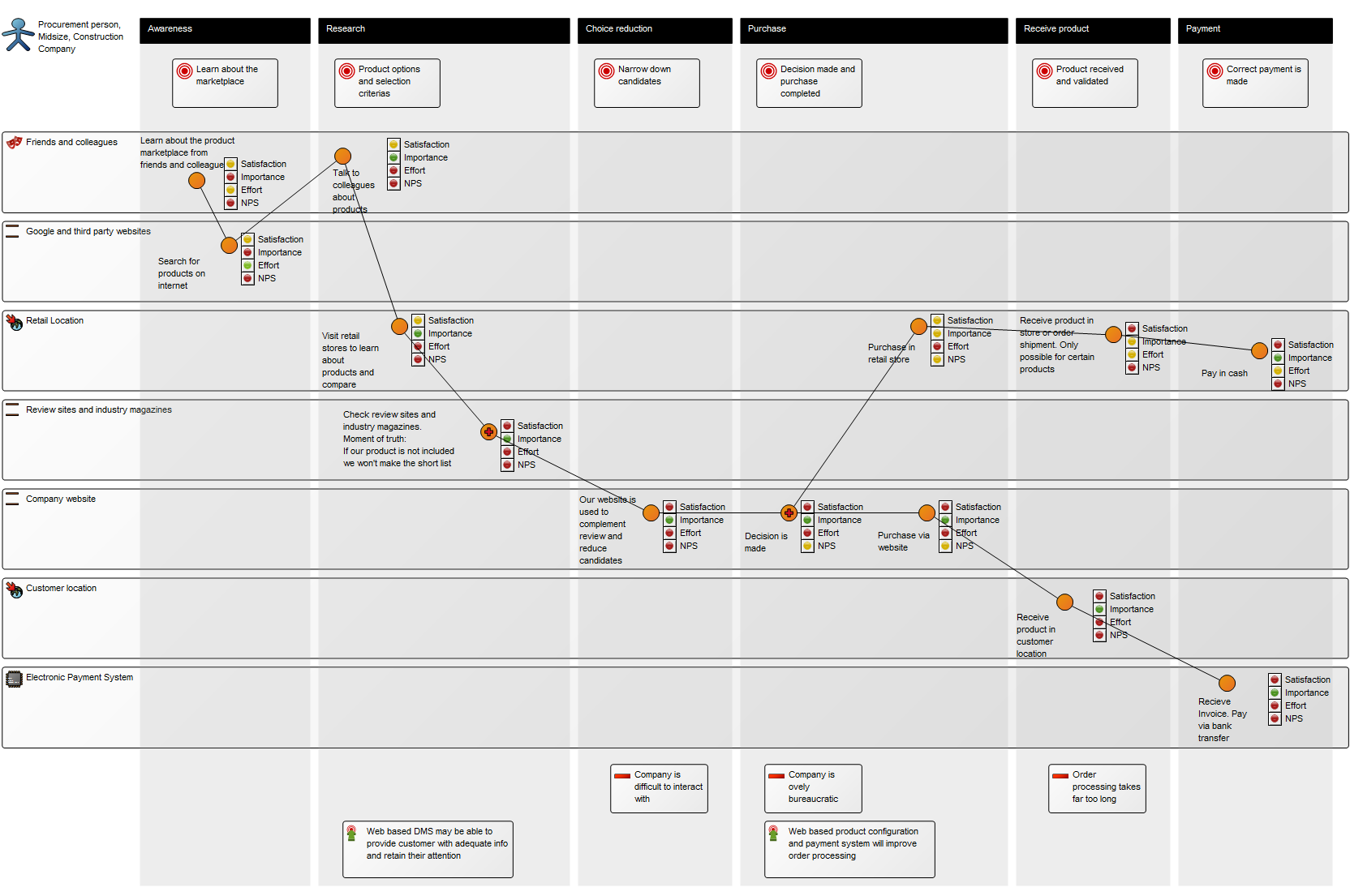 Desired future model: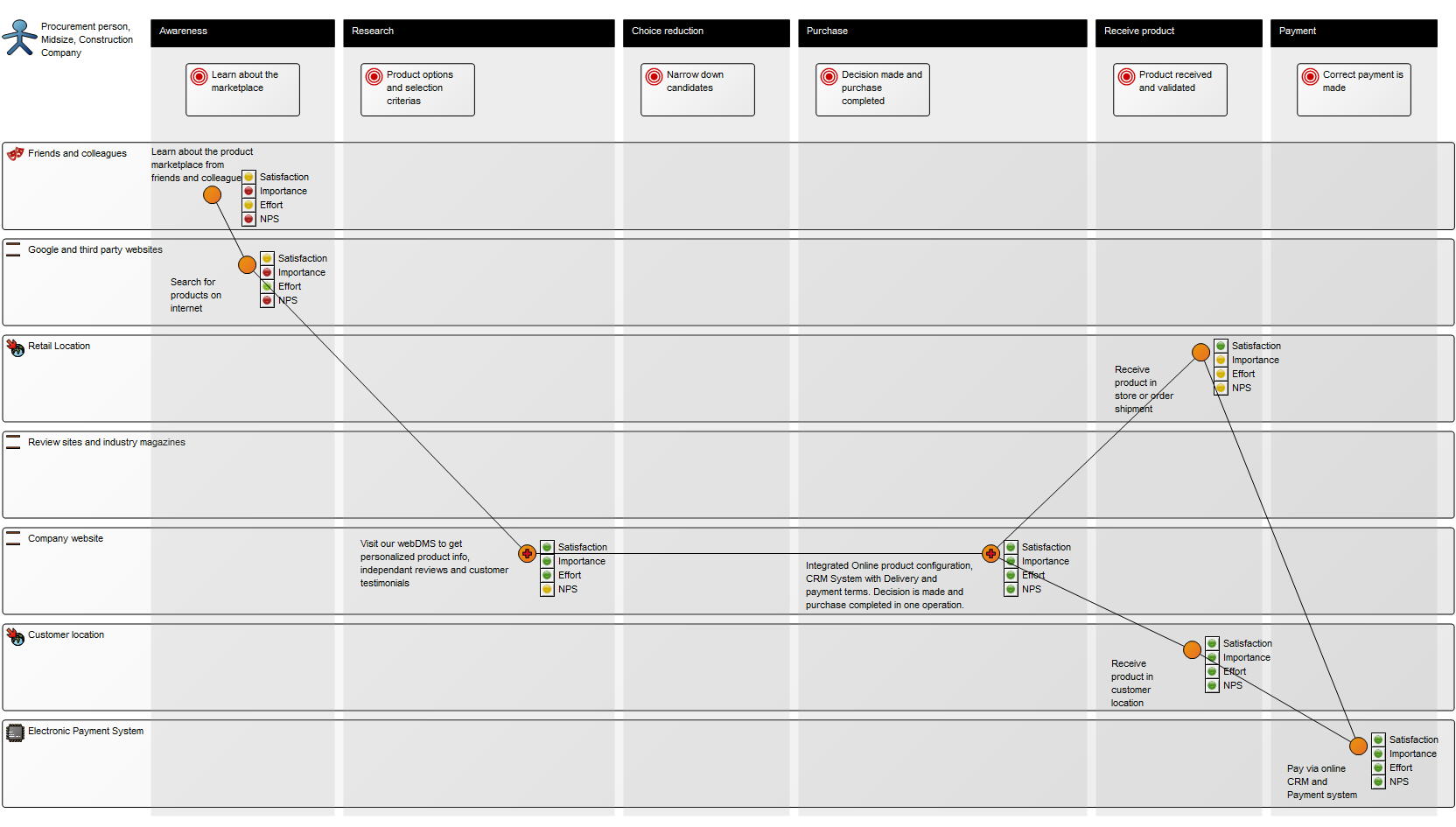 Other functionalities: The customer's touchpoints can be elaborated upon with four scores for Customer Satisfaction, Customer Importance, Customer Effort and Net Promoter Score. Particularly vital touchpoints can be designated as a Moment of Truth.
Relation to other templates: The Customer Journey Map can be used as a groundwork for a strategic change, which for example can be modelled in a Work Model, a Business Capability Model and/or a Strategy Model.
Properties and metadata: The Customer Journey Map can for example retain the following information:
A description of the diagram
Link to the owner of the diagram
Link to the one responsible for the accuracy of the diagram
Audits (auto generated information regarding its current state and access rights)
Associated documents, diagrams and other objects
Inherent Risk detailing risk considerations
Governance information detailing information about the published diagram and who has been involved in the approval of the diagram
Project status: information about budgeted and actual man-hours spent, percentage completed and the latest milestone, result and quality control of a change process.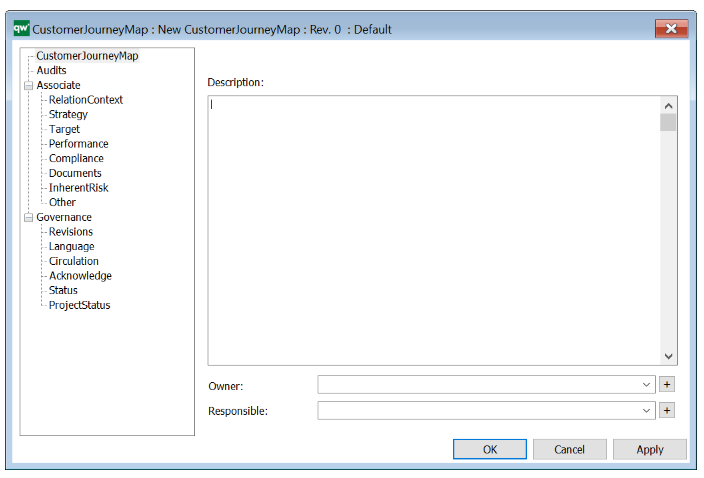 The above picture shows the properties dialogue window for the Customer Journey Map, where you can view and edit the diagram's properties.
For more information: on Customer Journey Mapping, please view our webinar Experience Mapping – Customer Obsession for IT and Digital Professionals with Milan Guenther and Katharina Weber.