The Compliance desktop in QualiWare provides the user with fast access to all essential features related to building and maintaining a compliance system.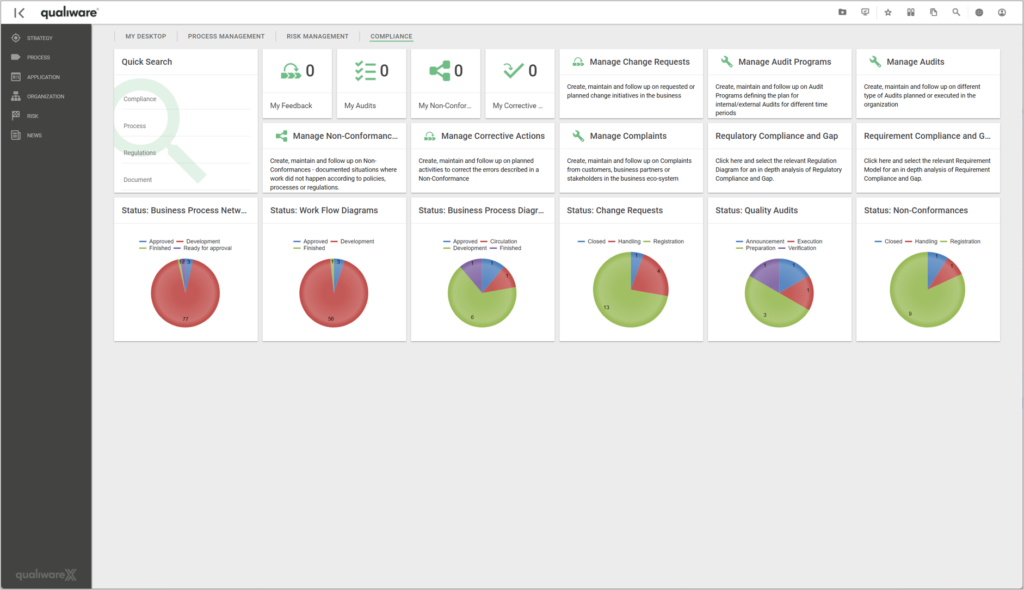 From the compliance desktop the user has access to:
a tile with "Quick search" to most relevant compliance objects
the personal tiles providing easy access to the users collaboration objects in the repository
a set of comprehensive queries/lists with all:

Change Requests
Audit Programs
Audits
Non-Conformanicies
Corrective Actions
Complaints

list of Regulations diagrams and Requirements models in the repository, and in-depth analysis of their compliance and gaps
a new set of statistics charts showing the distribution of the different types of process diagrams, audit, non-conformancies, and change requests according to their governance status.
The Compliance Desktop included in QualiWare 10.4.2 is explained in further details here as well as in this video:
In addition to the new statistics charts on the Compliance Desktop, QualiWare 10.8 also included a new set of compliance-relevant lists in the left menu, under "Process", read more about it here.